A broad range of services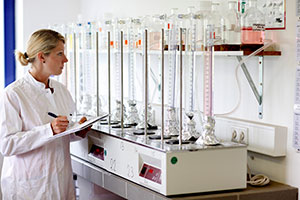 Chemo-Consulting GmbH offers a wide range of services, which extends from the inspection of waste and leachate, surface and ground water to the performance of geotechnical and soil-mechanical analyses:
Geotechnical inspections are applied both in the construction of landfill sites and also in respect of typical subsoil problems. Another focus is the investigation of contaminated sites and their expert evaluation.
Quality and reliability
Our up-to-date equipped laboratory is especially fitted out for the analysis of waste, sewage and toxic waste.
The examinations are carried out exclusively through recognised processes, whereby the quality assurance is also as self-evident as the participation in international round robin tests.
The interplay between chemistry and geotechnics
Through the interplay between chemistry and geotechnics it is possible to work out a technically and scientifically optimised decontamination concept. In this respect we are the ideal partner for builders, architects and engineering firms.